Welcome to our Home Page
Summer, Winter, Spring or Fall. A Canadian Airboat offers all season transportation, spill containment, oil spill clean up, emergency airboat services, flood and public assistance, Search & Rescue, game management, flood and public assistance, salvage, law enforcement, hunting, recreation or commercial applications.
Follow the links to see our custom built airboats, wind machines, courses, tours, DIY plans, rentals, and other options. Contact us for quotes, information and other inquiries.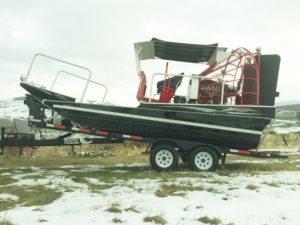 Our advanced hull designs and cages are engineered to handle the tough conditions of a cold winter climate. We powder-coat our cages, engine stands and pilot seat stands which will last longer than regular paint, with fewer rusting problems or corrosion, making your airboat last longer and require less maintenance.
Our airboats are Department of Transport Canada approved as we comply by using TP 1332 flotation, setting the Canadian safety standards of the airboat industry in Canada. Our airboats are used in industry as safety is paramount in keeping employees as safe as possible.