Airboat Trailers
Canadian Airboats provides state of the art trailers to handle all your airboat needs! We strongly recommend a custom built (for airboats) tip trailer.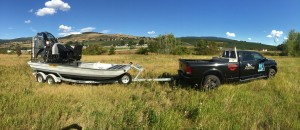 Our trailers are designed with strength and practicality in mind, after all, it is carrying a very important piece of equipment, your airboat! We use flatdeck tipping trailers and fit your trailer to your Canadian Airboat to ensure ease of loading and unloading.
A typical trailer for an 18 x 8′ is a dual-axle flatdeck trailer. Our trailers include: spare tire and wheel, parking jack with wheel, DOT approved lighting and reflective tape, heavy duty winch and a 2-inch ball coupler. We also offer a U-bolt adjustable dual runner trailer as well.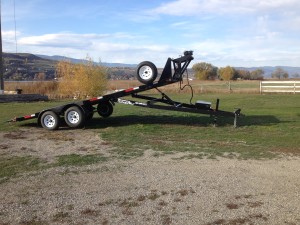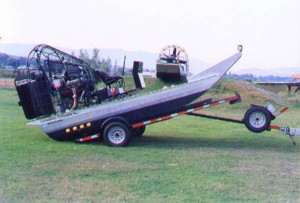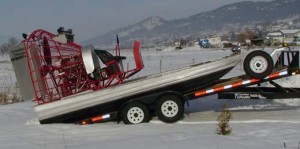 The deluxe hydraulic tip trailer has a 20-foot bed with plastic runners, tandem axle, electric-over-hydraulic tipping action, front mounted winch, DOT LED lighting, and modified with a snubber for the bow of the airboat to rest against. The axles have been moved back to accomodate good stability and tongue weight. The front reach has been extended to 7-feet to allow for easier maneuvering when backing up. It fits a 2-5/16″ ball on an adjustable ball receiver. It can be deployed in under a minute and reloaded almost as fast. The trailer has a rock guard coating to protect against road rock damage.
For more information, please contact us