Our Search and Rescue Airboats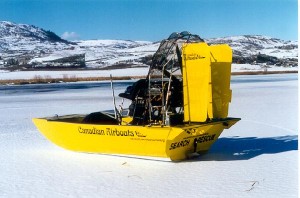 Our Search and Rescue Airboats will get you out into tough terrain and back with the utmost speed and safety. These craft can attain speeds of up to 80 mph. to get to the situation quickly and save lives!  With a payload of 1000 lbs. and lots of forward room you can be sure there is enough space for equipment and rescue personnel. These boats will go over bad ice conditions, open water back to ice, ice pressure ridges as well as dry ground, log jams, flooded areas, marsh or wetlands and hard to reach areas where conventional boats are not able to go. A Canadian Airboat Rescue Craft can carry people and gear with ease over demanding terrain with confidence and reliability.
We recommend our Advanced Canadian Conditions Hull. Better safe than sorry.