Canadian Airboats CASS Program
Airboat Operator Training, general orientation and safety training modules are held at the Canadian Airboats facility in Vernon B.C. Introduction to Airboat Safety, General maintenance, Airboat courtesy, Teeter points, Launching airboats, Parking and Loading airboats, verbal discussion on winter operation, ice operation, and transitioning are covered.
Hands on operation with the seasonal conditions, shallow water, deep water, mud, vegetation, dry ground, descending wet ground, transitioning, snow, ice, and other conditions are experienced.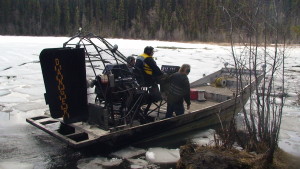 Features
Students gain hands-on experience operating a 330 – 556 HP reduction drive airboat. Inquire at time of training as to available training airboat under the instruction of Canadian Airboats Limited.
Successful completion of the course and exam, theory and practical, will earn an Airboat Operators Safety Certificate, presented by Canadian Airboat Safety Services, recognized by Canadian industries, such as in the Alberta Tar Sands. Many men and woman have successfully completed this certification and then worked running airboats as a career.
Important Prerequisite: Before you arrive to take our C.A.S.S Airboat Operator Safety Training
You require your Government issue Pleasure Craft Operator Card. Boat SmartExam.com
Call 250-308-6917 1-888-Airboat (1-888-247-2628) to arrange your CASS training.
By appointment only. Call for pricing and time scheduling.